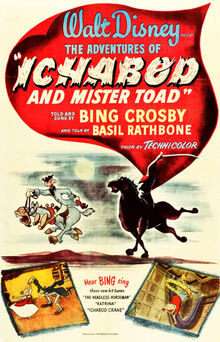 The Adventures of Ichabod and Mr. Toad is a 1949 animated package film produced by Walt Disney Productions and released by RKO Radio Pictures. The film consists of two segments – the first is based on the 1908 children's novel The Wind in the Willows by British author Kenneth Grahame, and the second is based on the 1820 short story "The Legend of Sleepy Hollow," called Ichabod Crane in the film, by American author Washington Irving.
The film is the 11th Walt Disney theatrical animated feature and is the last of the studio's package film era of the 1940s, following Saludos Amigos, The Three Caballeros, Make Mine Music, Fun and Fancy Free, and Melody Time.
Beginning in 1955, the two portions of the film were separated, and televised as part of the Disneyland television series. They were later marketed and sold separately on home video.
Cast
| Image | Character  |
| --- | --- |
| | Mr. Toad |
| | Rat |
| | Mole |
| | Angus MacBadger |
| | Cyril Proudbottom |
| | Mr. Winky |
| | Prosecutor |
| | Judge |
| | First Weasel |
| | Second Weasel |
| | Policeman |
| | Ichabod Crane |
| | Brom Bones |
| | Narrator |